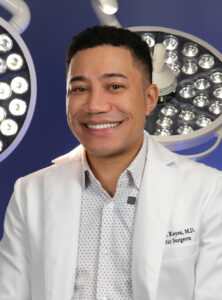 ABOUT

DR. MICHAEL KEYES, MD
Dr. Michael Keyes, M.D., is a board-eligible cosmetic plastic surgeon who has carved out a distinguished career in the competitive field of plastic surgery. Renowned for his expertise and dedication to the art and science of plastic surgery, Dr. Keyes has become a beacon of trust and excellence in the industry. His specialization in transformative body contouring and facial aesthetic procedures, including high-definition liposuction, Brazilian butt lifts, facelifts, and rhinoplasties, has made him a sought-after surgeon for individuals seeking to rejuvenate and enhance their natural beauty.
DR. MICHAEL KEYES, MD BIO
Michael Keyes has been recognized in high-profile publications such as Vogue, Marie Claire, the New York Times, and USA Today, a testament to his respected stance in the industry. His commitment to staying abreast of the latest developments in the field ensures that he is always at the forefront, offering the most advanced and safe procedures available. Dr. Keyes is known for his meticulous approach to surgery, which goes beyond mere enhancement; it is about crafting results that resonate with an individual's unique beauty and aspirations.
In the hands of Dr. Keyes, patients can expect a holistic approach to plastic surgery. He believes in understanding the individual needs and desires of each patient, creating personalized treatment plans that align with their aesthetic goals. Dr. Keyes is not just a surgeon; he is a visionary, constantly evolving with the industry's trends and technologies to offer modern and safe procedures. His dedication to precision and safety ensures that every procedure is executed with the utmost care, promising outcomes that are both beautiful and natural-looking.
Dr. Keyes fosters a nurturing environment where patients feel heard and respected. He takes the time to consult with each patient, understanding their concerns and expectations to craft a surgical plan that brings their vision to life. His expertise extends to a deep understanding of the anatomical structures and the artistic eye required to deliver results that enhance the natural contours of the body and face.
Patients embarking on a transformative journey with Dr. Keyes can expect a partnership that values open communication and personalized care. He is committed to helping individuals unveil a more confident self, guiding them every step of the way, from consultation to recovery. Dr. Keyes prioritizes safety, precision, and the realization of his patients' aesthetic dreams, standing as a reliable partner in their journey towards a renewed self.
With Doctor Michael Keyes, M.D., patients are not just stepping into a surgery room; they are stepping into a space of transformation, where dreams take shape and become a reality, where every procedure is a step towards unveiling a more confident, vibrant, and youthful self.
HOSPITAL AFFILIATIONS
Tampa General Hospital
Pending – August 2023
Staff Privileges, Tampa, Florida
South Miami Hospital
June 2022 – Present
Staff Privileges, Miami, Florida
MEDICAL EDUCATION
Doctorate of Medicine, University of Miami, Miller School of Medicine
Miami, FL – July 2009 – May 2013
Bachelor of Science, Integrative Biology, University of Florida, Gainesville, FL
January 2007 – December 2008
Associate of Arts – Biological Sciences
Santa Fe College, Gainesville, FL
August 2005 – December 2006
POST-GRADUATE TRAINING
Fellow, Plastic Surgery
University of Louisville, Louisville, KY
July 2019 – June 2022
Resident, General Surgery
University of South Carolina – Strand Medical Center
Myrtle Beach, SC
July 2014 – June 2019
Intern, General Surgery 
Boston Medical Center, Boston, MA
July 2013 – June 2014
PLASTIC SURGERY MEMBERSHIPS
Tampa Bay Society of Plastics and Reconstructive Surgeons
March 2023 – Current
International Society of Aesthetic Plastic Surgery
December 2020 – Current
American Society of Plastic Surgeons
July 2019 – Current
American College of Surgeons
July 2013 – Current
American Medical Association
July 2013 – Current
KEYES HONORS AND AWARDS
Honored with the "Clinical Achievement Award" from the University of Louisville Plastic Surgery Department for
breaking the record for most operative cases logged in the history of the program.
1st Place. Resident Paper Competition, Region IV Meeting of the American College of Surgeons Committee on Trauma,
Charlotte, NC, 2018
1st Place. Resident Poster Competition, South Carolina State Meeting of the American College of Surgeons
Committee on Trauma, Myrtle Beach, SC, 2018
Elected as "World Top 100 Doctor – Class of 2022" by The Global Summits Institute
GET YOUR

FREE CONSULTATION

TODAY
We will contact you as soon as possible. Make sure you send a valid phone number. email address.