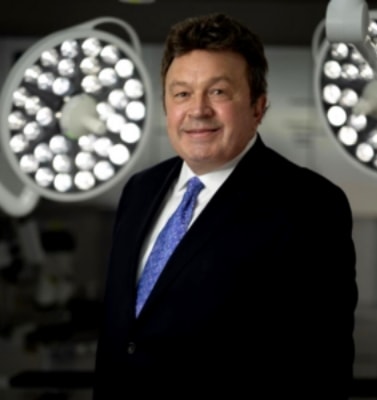 ABOUT

DR. MICHAEL STEFAN, MD
He is a double-board-certified, world-class plastic surgeon, yet he has also become one of the region's foremost physicians specializing in minimally invasive options that offer maximum results for the face and body.
Regardless of the type of procedure a patient seeks, Dr. Stefan keeps the patient's well-being at the forefront. He has cultivated a cycle of care and safety in Beyond Beauty practice, guided by his experience as a surgeon who is double board-certified by the American Board of Surgery and the American Board of Plastic Surgery. Dr. Stefan spends an hour with each patient during their first encounter, and he often suggests additional consultations, to make sure the patient understands the efficacy and duration of each available option. From there, the patient will know exactly what to expect before making a decision regarding treatment.
EDUCATION
Doctor of Medicine (Jul 1981 – Jul 1985) 

The Medical College of Pennsylvania · Philadelphia, Pennsylvania

Bachelor of Arts: Combined Majors of Biology and Art History (Jun 1977 – Jul 1981) 

New York University · New York, New York
POSTGRADUATE TRAINING
Aesthetic Surgery & Breast Surgery Advanced Fellowship (Jul 1993 – Jan 1994) 

Georgetown University Medical Center · District of Columbia

Plastic and Reconstructive Surgery Fellowship (Jul 1991 – Jul 1993) 

University of Florida College of Medicine and Affiliated Hospitals · Gainesville, Florida

General Surgery Residency (Jul 1985 – Jul 1991)  

Pennsylvania Hospital, University of Pennsylvania · Philadelphia, Pennsylvania
BOARD CERTIFICATION
Diplomate, National Board of Medical Examiners (1996 – Present)

Diplomate, American Board of Plastic Surgery (Re-certifications Apr 2006, Apr 2016)

Diplomate, American Board of Surgery (1996 – 2006)

Diplomate, American College of Hyperbaric Medicine (Oct 2009 – Oct 2010)
HONORS & AWARDS
Patients' Choice Award · Vitals.com (2012, 2013, 2015, 2016, 2018)
Compassionate Doctor Recognition · Vitals.com (2011, 2012, 2013, 2014, 2018)
On-Time Doctor Award · Vitals.com (2014, 2015, 2016, 2018)
Top Plastic Surgeon · Mainline Life Newspaper "Reader's Choice Awards" (2001 – 2008)
Top Plastic Surgeon · Consumer's Research Council of America (2004, 2005, 2006)
Lifetime Member · Global Directory of Who's Who (2006)
Top Plastic Surgeon · Mainline Today Magazine "Philadelphia's Top Doctors" (2001)
Phi Beta Kappa · New York University, College of Arts and Sciences (1981)
Founder's Day Award · New York University (1981)
PROFESSIONAL MEMBERSHIPS
American Society of Plastic and Reconstructive Surgeons (Current Member)
CLINICAL RESEARCH
Principal Investigator: Memory Gel Implant Post-approval Phase IV Clinical Study – A ten-year longevity study to determine device performance in aesthetic and reconstructive breast surgery. Sponsor: Mentor Corporation Approved Nov 2006.
Principal Investigator: Silicone-Filled Breast Implant Adjunct Phase III Clinical Study.  Sponsor: McGhan Medical Corporation. Approved Nov 2006.
Principal Investigator:  Velasmooth IRB Phase III Protocol for device efficacy. Essex Institutional Review Board, Inc. clinical research project. "A prospective clinical study to determine the safety and efficacy for skin tightening and cellulite treatment".  Sponsor: Syneron Corporation. Approved Oct 2003.
PUBLICATIONS
Stefan MD, M., Holocomb MD, G., and Ross MD, A. Gastrocolic Fistula as a complication of Endoscopic Gastronomy.  Journal of Enteral and Parenteral Nutrition, Vol. 13, No. 5, 554-556, 1999.
Gowen MD, G., Delaurentis MD, D., and Stefan MD, M. Immediate Placement of Long Intestinal Tube in Partial Obstruction of Small Bowel. Contemporary Surgery, 32: 29-34, 1998.
Stefan, MD, M. Paoli Hospital Cancer Committee: Report on Malignant Melanoma: DNA/RNA Transcription Process. Publication of Main Line Health Cancer Services, May, 1997.
Stefan MD, M. Breast Reconstruction in the 1990's: Overview. Polk Country Medical Bulletin, October 19, 1996.
McCarthy D.P.M., G.J., Lindaman MD, L., and Stefan MD, M. Pedal Polydactyly: An Overview with Case Report. Journal of Foot and Ankle Surgery, 34: 6, 1995.
Spear MD, S., and Stefan MD, M. Stacked TRAM  (Transverse Rectus Abdominus Flap) in Breast Reconstruction.  Annals of Plastic Surgery, 33:1, 1994.
Sleater MD, J., Beers MD, B., Stefan MD, M., Kilpatrick MD, T., and Hendricks Ph.D., J. Proliferating Trichilemmal Cyst; Report of Four Cases, Two with Nondiploid DNA Content and Increased Proliferation Index.  American Journal of Dermatopathology, 5:423-8, October, 1993.
Chawdry MD, R.P., Stefan MD, M., and Cheronfsky MD, M. Use of Vein Patch Angioplasty in Microvascular Tissue Transfers, Annals Plastic Surgery, 24: 289, 1990.
GET YOUR

FREE CONSULTATION

TODAY
We will contact you as soon as possible. Make sure you send a valid phone number. email address.
WHAT OUR CLIENTS SAY ABOUT

NIP TUCK
My Booty Has Never Looked As Good. I had the most wonderful experience with Dr. Stefan, my BBL came out amazing I am so blessed to have chosen him as my doctor his bedside manner was impeccable I will definitely get more work done with him.
PATIENT OF DR. MICHAEL STEFAN, MD
I Had a VIP Experience. Excellent surgeon… the hands of Dr. Stefan exceeded my expectations. I couldn't be happier with my results. Everything went great with my surgery.
PATIENT OF DR. MICHAEL STEFAN, MD
You know the old saying "you can't make a silk purse out of a sow's ear," but Dr. V can. He is a world-class surgeon. Shall we say I am not young… Many other surgeons were downright rude regarding my situation. Dr. V took a look, gave me an honest appraisal, and enriched my life in a manner that I cannot articulate my gratitude. Thank you, Dr. V!
Mother of 6, I must say I love my breast now! Dr. Stefan was friendly, very informative, and made me feel confident in him! He did everything I asked to the exact "T" I must say I love my breast now! His hands are blessed! I recommended him to my family he is definitely good at what he does.
PATIENT OF DR. MICHAEL STEFAN, MD
I am 5'4 and 140lbs and I have had two babies. I went by a referral from a friend! The staff treated me literally like a queen. And when I met Dr. Stefan I knew I was in good hands! I told him my desires and with his expertise, he gave me so much more! The experience and care I received were phenomenal and I was sad when it was over! But excited for my new figure.
I am a 46 mother of 4 and I had the absolute BEST experience with Dr. Stefan. He really cares about his patient's safety and their happiness. He held my hand prior to surgery and he saw me 3 times at post-op visits. I love my results and it only been a week. I am so glad that I choose him I can only expect Badass results to continue.
PATIENT OF DR. MICHAEL STEFAN, MD
Dr. Stefan was incredibly knowledgeable and kind. He was very educative in helping me decide the size and type of implant I would get. He explained to me what to expect in terms of recovery and swelling and gave me his cell phone prior to the surgery so I never felt alone. His entire team was extremely attentive and kind and I absolutely love how my breasts came out.
PATIENT OF DR. MICHAEL STEFAN, MD